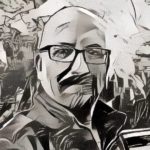 Currently I'm writing screenplays and developing television shows for Hollywood, but I've spent my entire life writing in some form or fashion.
I began writing short fiction in 2010 after a long career as a music and radio industry columnist and journalist. The second story I wrote and the first story of mine published, "The Old Equations," appeared in Lightspeed magazine and went on to be named a finalist for the Nebula Award and to be shortlisted for the StorySouth Million Writers and Theodore Sturgeon Memorial awards. I've subsequently been published in multiple anthologies and magazines across the globe, including the seminal anthology, The Year's Best Science Fiction, edited by Gardner Dozois.
I have two series currently available: The children's/young adult fantasy series featuring Tommy Black and an epic fantasy series entitled The Guildmaster Thief. Hollywood work has required me taking a break from working on my series, but I promise to get back to them some day. I'm just not sure when.
I continue to work on short fiction, including the story Three Speeches About Billy Grainger, published in the Resist! anthology, which was released in Fall 2018.
Going further back in time, I graduated from Kenyon College with degrees in English and Psychology. Kenyon not only taught me a love of reading and literature that will always be a part of my soul, it also gave me unique opportunities to be a better writer. While at Kenyon, I studied under writer-in-residence Ursula K. Le Guin and Peruvian playwright Alonso Alegria. Both have been big influences on how I approach my work.
I have plenty of stories about my time in the music industry, many of which I share on my blog.
Oh, and I live in Texas with my wife, three daughters, and too many pets.