Someone pointed out to me that there is a public AI writing tool called Sudowrite, so me being me, I wandered over to sudowrite.com to check it out and compare it to Laika. I used the same exact prompt I gave Laika and used Sudowrite's "Guided" AI writing experience. If you want to check out my experience with that prompt via Laika, you can read my post here.
Before I provide the output, I should note that Sudowrite is backed by some significant investment capital and in a publicly accessible UI. It is, for all intents and purposes, a finished product. So it is far ahead of Laika in terms of company development. The UI obviously shows that, with lots of options including brainstorming characters, dialogue, etc. You can do those things with Laika, but they are all tossed into a single editor UI and you have to wing it and see what comes up. It's kind of charming in Laika, but the Sudowrite UI is obviously much more refined:
Sudowrite: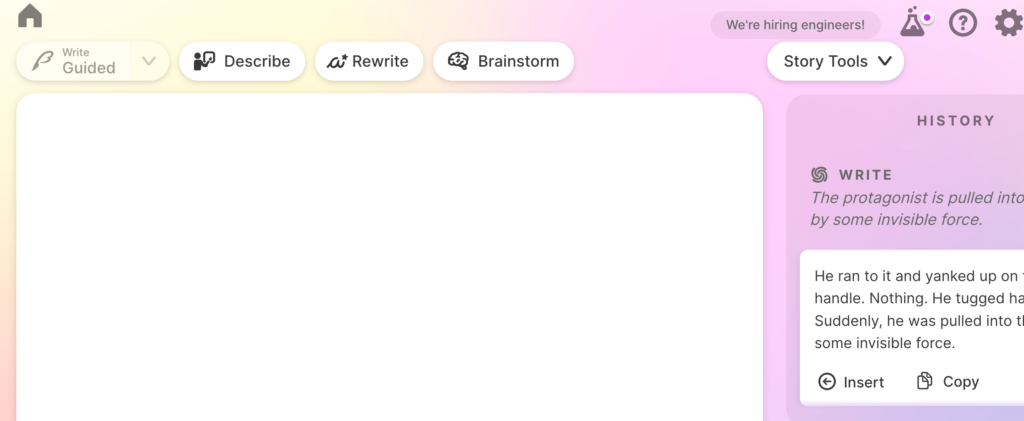 Laika:

A critical difference between the two platforms is that Sudowrite is intended to just plain work, which is great because you just type and press buttons. But it is vastly different than Laika, which allows you to upload your writing for the AI to learn your writing style. As I noted in the previous post, Laika does a surprisingly good job of that.
So how did Sudowrite do? Well, here's the same prompt and my following Sudowrite into a scene. The red text blocks are the contribution from the AI:
—
It didn't look good. It didn't look good at all. The horizon was static, and the sidewalk was patched together with textures right out of Minecraft.
The protagonist looks around frantically for a way out, but no matter which way they turn, the scene is the same. They see a door in the distance and run towards it, but as they get closer, they realize it's just a painted on 2D image.
He looked left and realized it was the same door. To the right. Same. Finally, he thought to look down. Bingo! A grate in the street that was at least three dimensional, if not an escape.
He ran to it and yanked up on the handle. Nothing. He tugged harder. Suddenly, he was pulled into the door by some invisible force.
—
So what do you think? Laika vs. Sudowrite with the same prompt. Let me know your thoughts.