When SF author John Scalzi was in town a couple weeks ago I was joking with him that I messed up my writing career with some poor choices. One of them was that, while I was nominated for the Nebula and Sturgeon Award for my science fiction short fiction, the first novels I wrote were all fantasy. I was (mostly) joking, as the Tommy Black series has sold quite well, but it was definitely true in some areas, as I have quite a few readers that are mostly fans of my science fiction. Well, the wait is over! My virtual reality science fiction thriller Thursday will be released on November 1, and I'm thrilled to death to share with you the cover!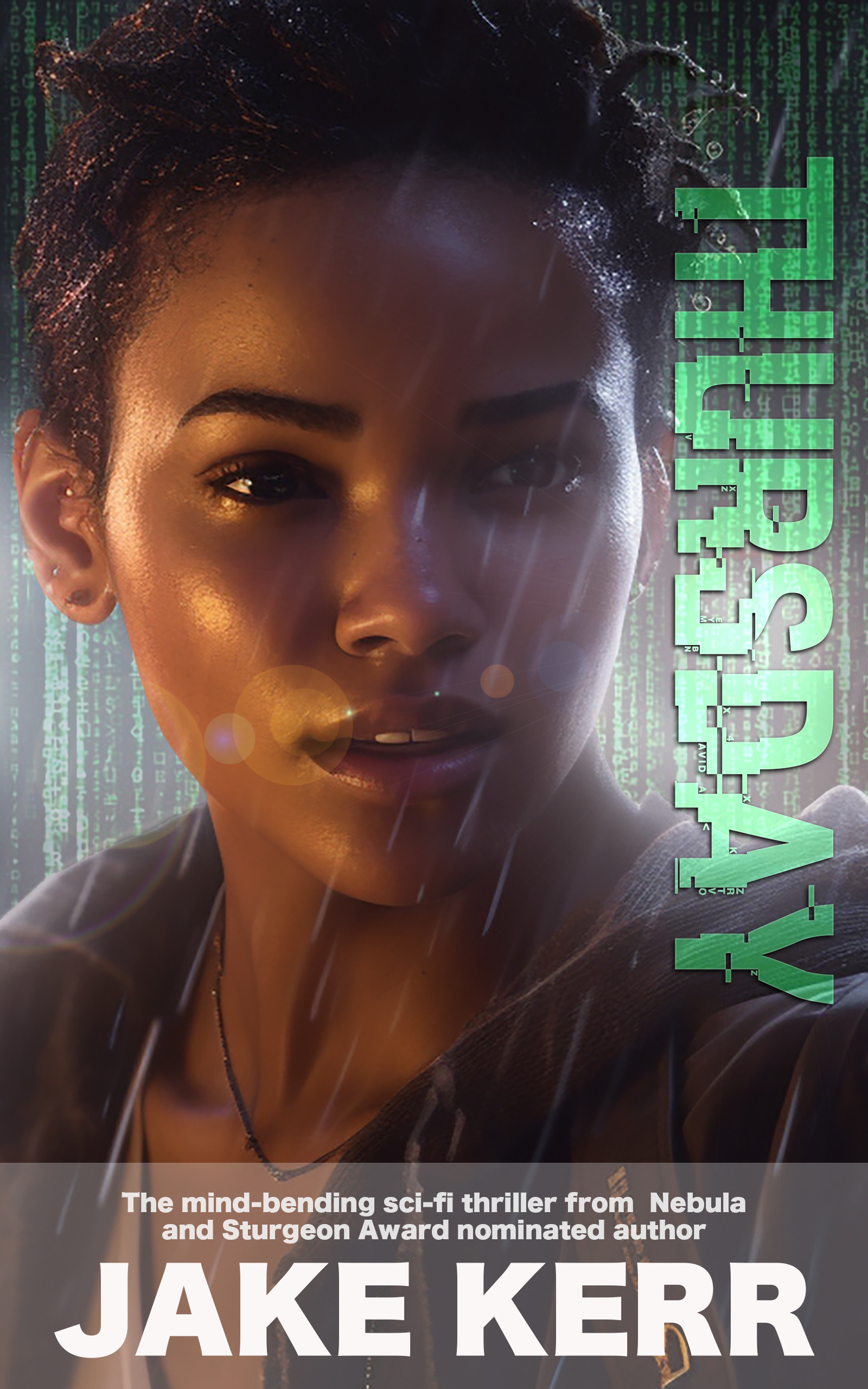 Here's the blurb from the back jacket of the paperback:
NO ONE CAN BE TRUSTED AND NOTHING IS REAL
In a near future of decaying cities and gray skies everyone has escaped to the wondrous life of virtual reality.
Including the criminals.
And the most dangerous criminal in the world is Sunday, the leader of the terrorist group the Order of Days, whose sole mission is to destroy the false paradise of VR and return people to the land of reality.
While on a simple reconnaissance job, young FBI agent Gabby Kane stumbles upon Saturday, a key member of the Order of Days. Kane brashly tries to single-handedly capture the terrorist, only to mess everything up in the process. She not only allows Saturday to escape, but she also seriously injures her own neural connection to virtual reality, a critical requirement for an undercover agent. With her career in jeopardy, Gabby agrees to an impossible mission: Infiltrate the Order of Days as Thursday and kill the mysterious Sunday.
Deep undercover and chased by the police and FBI while getting closer to uncovering the Order of Days, Gabby finds herself in increasing danger and without allies. But do enemies and allies even exist when no one can be trusted and nothing is real?